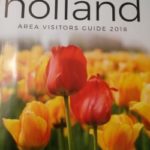 It's here! The new Holland Michigan Area Visitors Guide 2018, and we're on the map!
This guide is filled helpful information on places to go, things to do, and stories all about Holland. The magazine can be found at the downtown Visitors Bureau, and at The Beach House…
Come get your copy today!