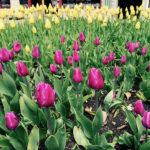 With the warmer weather we're having this week, it's easy to start thinking about Tulip Time again!
Holland, Michigan's Tulip Time Festival began in 1929, initially as a "tulip day" to celebrate the city's Dutch heritage, and showcased 250,000 tulips imported from the Netherlands. Today, Holland's hallmark cultural event boasts nearly 4.5 million tulips and attracts hundreds of thousands of visitors over the course of eight days each May.
Book your Beach House stay now,
and come see for yourself why Readers Digest has named The Holland Tulip Time Festival the "Best Small Town Festival in America"!
Saturday, May 5-13, 2018